Ndungu Nyoro writes: "My pain is on the girl in the middle. She has lived all her life knowing she is a twin. She has had a loving family who have cared and educated her.
Now she knows her life was a lie. She is a stranger in the only home she has known. She can fake a smile but deep down she is hurting. Somebody betrayed her. She is not sure of her real mother or father. Now she's not sure of herself anymore. Even her name was meant to be for the newly found twin. What does the future hold?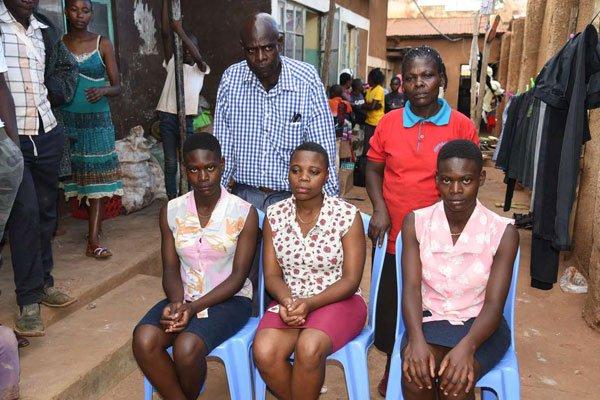 Will she be isolated by her 'twin', one she has been close to all her life? Her 'parents' and the new sister, how will they treat her?
I think she needs counseling. She could be crushing from inside even as we celebrate the others."
Write up by Ndungu Nyoro Via his facebook timeline
Melon Lutenyo, Sharon Mathias and Mevies Imbaya have hit the headlines in recent days following a puzzling discovery that two of them might be identical twins who were separated at birth.
Sharon and Melon have a striking resemblance and are dark in complexion while Mevies is light and shorter than the two.
Interestingly, Mevies and Melon grew up together in Kakamega and believed they were sisters before Sharon – who lived in Nairobi- came into the picture.
Speaking during an interview on KTN News on Thursday, Mevies revealed that at some point she wondered why she looked 'different' and asked her mum Rosemary Onyango about it.
"I am the only brown girl in this family but my mum told me she used to be light when she was young.
"I then asked her whether I would become dark with age…" said Mevies.
She added that despite meeting Sharon nothing has changed and they bond well.
READ ALSO: Kakamega Twins Mystery: Interesting Facts Emerge Even before KEMRI conducts DNA tests.
Asked whether she had fears that she was not living with her parents, Mevies stated that she had thought about it but will love both her 'mum' and Sharon's 'mum' who is in Nairobi.
Sharon and Melon, on the other hand, shed tears as they narrated how they met each other and noted that they even have similar career aspirations.
As Mr. Nyoro, says, do you think she needs counseling?. Could she could be crushing from inside even as we celebrate the others.?
PLEASE REMEMBER to write a comment below on your thoughts on this story